Commerz Markets Leadership Team: Silke Soennecken Schmidt
Silke Soennecken Schmidt, Chief Risk Officer & Member of the Board of Managers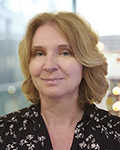 Silke Soennecken Schmidt is Managing Director and Chief Risk Officer of Commerz Markets. She is responsible to oversee the company's governance and strategy for risk management; recommending its risk appetite and ensuring that all risks generated by the business are measured, reviewed and monitored on an ongoing basis. Silke is also Head of Risk for Commerzbank North America with responsibility for the entire North American credit portfolio.
Prior to joining Commerzbank in New York in 2008, she held several roles at the Madrid branch with the Risk Management, Operations and Trade Finance teams covering Iberia, Northern Africa and South America.
Silke has a long career in the banking industry with 20 years in Risk Management. She was born in Germany but was raised and educated in Spain, following her family's emigration.