Commerz Markets Leadership Team: Michael Boland
Michael Boland, Treasurer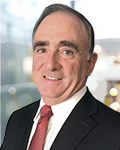 Michael Boland is Treasurer of Commerz Markets. As Treasurer, he oversees the funding and liquidity needs of the broker-dealer and sits on the Commerz Markets Governance Committee. He is also a Director in the Treasury department of Commerzbank North America.
Michael has 33 years of banking experience with 31 of those years with Commerzbank. Over the years he has excelled in the trading, investment, regulatory and customer relationship activities for the Treasury division.
Michael is a graduate of Providence College with a BS in Business Management. He holds securities licenses 7 and 63.