Commerz Markets Leadership Team: Keith Lloyd
Keith Lloyd, Member of the Board of Managers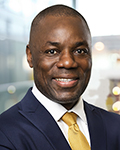 Keith Lloyd is Managing Director and Chief Financial Officer Americas, Commerzbank AG. He is responsible for the financial control function of all Commerzbank Group activities within the Americas region. Keith supervises regulatory and financial reporting and oversees the planning, execution and controlling of all applicable international tax related activities. Additionally, he develops his business function strategy and goals including budget, resources and compensation forecasting; as well as long-term planning for growth and implementation of Commerzbank strategic initiatives. Keith also actively focuses on more progressive areas of business leadership and change management within his remit in the New York Branch.
Prior to becoming CFO Americas in 2015, Keith performed in a variety of roles within Group Finance of increasing responsibility, both domestically and abroad in Commerzbank and prior to that, with Dresdner Kleinwort. With over 25 years of experience in Financial Services, Keith began his career as a financial analyst at the American Stock Exchange.
Keith holds an MBA in Finance from Fordham University.