Commerz Markets Leadership Team: Joseph Toner
Joe Toner, Co-Head Capital Markets & Advisory Commerzbank North America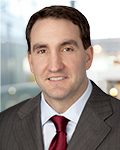 Joe is Managing Director and Co-Head Capital Markets & Advisory Commerzbank North America. He is responsible for the management of Trading and Sales for the FX, Rates and Credit businesses in the Americas.
Joe and his teams are focused on providing liquidity in the Eastern Time zone for Commerzbank's European client base, as well as Commerzbank's US counterparties. His trading floor utilizes the existing FICC European product platform, with an emphasis on local currencies for regional significance.
His sales teams offer a full suite of FX, Ecommerce, Interest Rate Derivatives, Fixed Income, Credit and Emerging Market products. Core responsibilities include corporate and institutional marketing and sales across multiple asset classes.
Joe began his career at Chase Bank in 1994 as an Interest Rate Derivatives trader. He remained there for five years trading in international locations including Hong Kong and London before returning to New York. He later moved to J.P. Morgan running a USD rates team. In 2005, he joined Dresdner Bank, where he was responsible for USD Rates Trading. Following the merger with Commerzbank, Joe became Head of FIC Trading for Commerzbank North America in 2010.
Joe graduated from St. John's University in New York with a degree in Finance, attending his four years on full athletic scholarship.