Commerz Markets Leadership Team: Joseph Barbella
Joseph Barbella, Chief Compliance Officer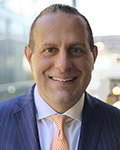 Joe Barbella is Managing Director and Chief Compliance Officer of Commerz Markets and Head of Markets Compliance for Commerzbank North America. Joe oversees the Markets Compliance function, which includes Compliance advisory coverage for both public and private-side businesses, including Sales and Trading and Debt Capital Markets.
Prior to joining Commerz Markets in 2018, Joe was the Global Head of Central Compliance and Chief Ethics Officer at First Data Corp., a Fortune 250 Company, and one of the largest payment processors in the world. Prior to that, Joe was Deputy CCO and Head of Markets Compliance for Royal Bank of Canada Capital Markets in New York.
Joe has also held roles of increasing responsibility at Citigroup, including Head of Institutional Fixed Income Compliance for Citigroup Global Markets and Head of Retail Fixed Income Compliance at Citi-Smith Barney, within the Products, Transactions and Trading Compliance division.
Earlier in his career, he worked for KPMG focusing on compliance consulting for financial service clients; and also at Prudential Financial, as an Investment Associate. Joe has 25 years of combined financial industry experience, 20 of which are focused within Compliance.
Joe holds a B.S. in Accounting from St. Peter's University; an MBA in Corporate Finance from Pace University - Lubin School of Business; and a Juris Doctorate from Seton Hall Law School. He is a member of the New York and New Jersey Bar, and has participated as a speaker on multiple Fixed Income industry panels as part of SIFMA's Annual Compliance & Legal Conference.