Commerz Markets Leadership Team: John Geremia
John Geremia, President & Member of the Board of Managers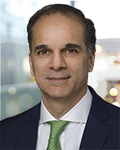 John Geremia is Managing Director and President of Commerz Markets. His responsibilities for the Broker-Dealer encompass all securities dealings across all capital markets business lines.
John is also Regional Board Member and Chief Executive Officer North America and General Manager New York Branch, Commerzbank AG. John is responsible for governance and strategy in the region, including all business units and Treasury. He is the principal relationship manager for the Federal Reserve, the New York State Department of Financial Services and FINRA. John also maintains board membership duties for various US-based wholly owned subsidiary holding companies of Commerzbank.
Prior to this John was the Head of Treasury U.K. and Americas with responsibility for liquidity and capital management, including funding for all local business units and active interest rate risk management.
Beginning his career at Bear Stearns, John has amassed more than 30 years of experience in the banking industry. Prior to joining Commerzbank in January of 2009, John served as the Treasurer for West LB – Americas before moving to West LB – London Branch as Treasurer.
John has an MBA in Finance from St. John's University in New York. He has a General Securities license, State Securities license, and is a Supervisory Principal. John is an Officer of the Institute for International Bankers (IIB) Board of Trustees, serving on the Finance and Audit Committee; and is a member of the Supervisory Board of Commerzbank Brasil S.A. Banco Multiplo.