Commerz Markets Leadership Team: Head of Operations
John Brosnan, Head of Operations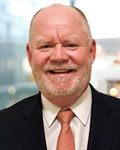 John Brosnan is Managing Director and Head of Operations for Commerz Markets. The primary mission of Operations is to provide first class and cost effective transaction processing for both internal and external clients, while ensuring full compliance with all applicable regulatory requirements. John is also Head of Banking and Markets Operations for Commerzbank North America, as well as Head of Client Lifecycle Management International. An accomplished Operations professional with extensive experience building and leading global team in top tier Capital Markets and Wealth Management organizations, John has a proven track record of supporting large scale business growth across asset classes, products and geographies, while maintaining control and cost discipline.
Before joining Commerz Markets in 2015, John was the Global Head of Operations and Middle Office at Jeffries LLC. Prior to that he held various senior management positions, among others at Barclays in New York and London, and at HSBC Securities (USA).
John holds an MBA from Pace University.