Commerz Markets Leadership Team: Ignacio Campillo
Ignacio Campillo, Co-Head Capital Markets & Advisory Commerzbank North America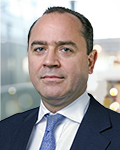 Ignacio is Managing Director and Co-Head Capital Markets & Advisory Commerzbank North America. He is responsible for the management of Equity Brokerage, Debt Capital Markets Bonds and Loans, Syndicated Finance, M&A, Renewables and coverage of US Corporates in the Americas.
Ignacio joined Commerzbank in 2013 from Santander Bank. At Santander, Ignacio was a senior banker for more than 15 years with responsibility for managing global banking relationships of Fortune 500 multinational corporate clients across the Food/Consumer, Healthcare, Automotive and Telecom/Media/Technology sectors. In addition, he provided coverage of Latin America and European client subsidiaries in the US.
Ignacio has an MBA in Finance and Economics from Indiana University.