Commerz Markets Leadership Team: Yoko Hubley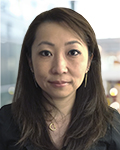 Yoko Hubley, Chief Financial Officer
Yoko Hubley is Chief Financial Officer of Commerz Markets. With over 20 years of experience in financial services, Yoko is financial operations principal for the broker-dealer and supervises the filing all financial and regulatory reports. Working closely with auditors and regulators to ensure compliance, Yoko is responsible for keeping current with any changes that may affect the financial and regulatory reporting of Commerz Markets. She is also Head of Accounting for the Americas region of Commerzbank.
Before joining Commerzbank in December 2005, Yoko was Vice President of Finance with Abbey National Securities.
Yoko received an MBA in Finance from New York University Stern School of Business.