Commerz Markets Leadership Team: Lee-Ann Royan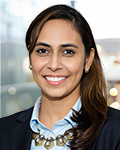 Lee-Ann Royan, Chief Operating Officer
Lee-Ann Royan is Chief Operating Officer of Commerz Markets. In her role, Lee-Ann oversees the operations of the broker-dealer ensuring compliance with regulatory requirements and represents the business on various management steering committees in the areas of Information Technology, Digitalization, Data Governance, and Compliance. With a strong business development and strategic analysis background, Lee-Ann is adept at delivering innovative business solutions tailored to maintain a smooth business workflow. Lee-Ann is also Head of Business Management for Commerzbank North America.
With over 17 years in the industry, Lee-Ann has experience with both leading financial institutions and international banks. Prior to her time at Commerzbank, Lee-Ann served in various management roles at Barclays Capital across front office and operations, most recently as a COO in the Prime Services Distribution team. Over the years, Lee-Ann has worked alongside both support functions and front office personnel to effectively manage large scale projects and implement innovative business solutions and strategies.
Lee-Ann holds a degree in Business Science with majors in Finance and Information Systems in addition to various securities licenses.