Commerz Markets Leadership Team: Andreas Holsten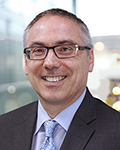 Andreas Holsten
Andreas Holsten is Managing Director, General Manager and Chief Operating Officer of Commerzbank North America. As COO, Andreas presides over the business development and process optimization of all front-to-back operations. His General Manager duties are largely comprised of serving as liaison and ambassador of the Commerzbank New York Branch to regulatory entities both domestic and international; as well as the coordination of all regulatory audits.
Before this most recent role, Andreas was the Global Head of Credit Risk Automotive located in Frankfurt. As a member of the Group Risk Management Team Corporates, he supervised the Credit Risk of a variety of industries in addition to the global automotive exposure. Prior to this Andreas was Head of Risk for Commerzbank North America.
Beginning his career as an accountant at Polyram GmbH in Hamburg, Germany, Andreas brings to his position over 30 years of experience at Commerzbank.
Andreas attended university in Germany and holds his Diplom Oekonom.