Commerzbank wins the EBRD's green trade finance award in category, 'Most Active Confirming Bank – Green Trade'
17-time winner of the EBRD's overall 'Most Active Confirming Bank' Award adds prize in the Green Trade category for the second consecutive year to its list of accolades
LONDON 30 June 2021: In recognition of Commerzbank's extensive work in financing green trade, Commerzbank has been named the 'Most Active Confirming Bank – Green Trade' in the European Bank for Reconstruction and Development (EBRD) Trade Facilitation Programme (TFP) Awards for 2020. This award was presented jointly with The Banker, a Financial Times publication that covers the world's banking and financial sector.
The awards celebrate special achievements in trade finance, with a particular focus on sustainability and financial inclusion.
The TFP, launched in 1999, aims to promote foreign trade to, from and among the economies in which the EBRD invests. Through the programme, the EBRD provides guarantees to international confirming banks and short-term loans to selected banks and factoring companies for on-lending to local exporters, importers and distributors. The EBRD's TFP currently includes more than 100 partner banks in 30 economies where the EBRD invests, and more than 800 confirming banks worldwide.
The prizes reflect the depth of the EBRD's flagship programme, which played an important role in upholding trade in the Bank's regions since the outbreak of the pandemic in early 2020, even achieving a record annual volume of over €3.3 billion over the course of the year.
The awards ceremony took place today at the first virtual TFP Information Session alongside the EBRD's 30th Annual Meeting.
At the TFP Information Session, Francis Malige, EBRD Managing Director, Financial Institutions, said: "The coronavirus pandemic has tested the global economy like no event for decades. As much as it has exposed weaknesses, it has also demonstrated the crucial role of trade to keep the world economy going. The EBRD responded swiftly and powerfully with a new record in our Trade Facilitation Programme. But our engagement goes beyond crisis response: we need to build a greener, more sustainable and more balanced world and here, again, trade has a vital role to play."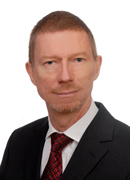 Upon news of the award win, Hans Krohn, Regional Head Financial Institutions, commented, "We are delighted to have been recognised by the EBRD for our work in the sustainable finance space. Sustainability is a core element of our strategy, and against the backdrop of our excellent collaboration with the EBRD over many years, we are proud to be singled-out as a key facilitator of financing for green projects in the EBRD's core regions."